Telecommunications services
Satellite television broadcasting, satellite radio broadcasting, broadband Internet access and other satellite services.
A few words about Belintersat
Creation of the National Satellite Communication and Broadcast System is the largest project in the field of telecommunications implemented by the Republic of Belarus. The launch of BELINTERSAT-1 satellite took place on January 15, 2016 from Xichang Satellite Launch Center (People's Republic of China). It is placed at the orbital position 51.5 ° East and provides a full range of advanced satellite services in Europe, Africa and Asia.
The Ground Control Centre (GCC) performs control over BELINTERSAT-1 satellite in Stankovo, Dzerzhinsk region, as part of the State Enterprise "Precise Electromechanics Plant".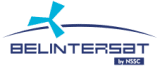 Belintersat-1
BELINTERSAT-1 is based on the DFH-4 bus (China) manufactured of 100% certified flight-quality components. It is the 9th satellite on this platform, launched into the geostationary orbit.
* 4×36 mhz cross-strapped (uplink in european beam, downlink in african ku-band beam).
** switch option for transponders between beams.
BELINTERSAT is a system consisting of a modern geostationary communications satellite "BELINTERSAT-1″ and "BELINTERSAT" Space Communications Center.
"BELINTERSAT" Space Communications Center consists of Satellite Control Center, Ground Application Center (Teleport), and services ensuring radio frequency equipment and local area network operation.
BELINTERSAT-1 satellite is placed in geostationary orbit at 51.5 ° East position and is equipped with 38 transponders with an expected on-orbit lifespan of 15 years.
24/7 BELINTERSAT-1 satellite system operation management and control over the parameters of satellite communication services rendered.
National Satellite Communication and Broadcast System
A full range of highly reliable services and secure satellite communications solutions. Belintersat constantly strives to improve the quality and reliability of its services, diversifies its capabilities and tools to enter new markets. The company offers high-quality and reliable services and solutions for video and data transmission, as well as Teleport services to its customers in Europe, Asia and Africa.
Satellite broadcasting of radio and TV programs
The use of satellites to broadcast radio and television programmes is an effective tool to transmit media content to the widest possible public.
If you need to quickly transmit information between any points within the Belintersat-1 satellite coverage area, our satellite capacity service is the best solution for you.
Delivery of TV programs to cable operators
Cable operators in the remotest parts of the country can access an encrypted package of TV programmes through the satellite.
Belintersat provides a permanent, secure, high-quality solution for providing private and public companies with data transmission services.
Backup of terrestrial channels. Deployment of antennas and equipment. Services for monitoring payloads of other satellites. Orbital testing services for geostationary satellites in C- and Ku-bands. Technical consulting services for the creation of satellite communication and broadcasting systems.
Space Communications Center and Teleport
The Space Communications Center is a sophisticated modern complex consisting of an antenna system, radio-frequency, server and other equipment, communication channels and software required for reliable operation of The National Satellite Communication and Broadcast System of the Republic of Belarus.
The Ground Control Station is a specialized equipment designed to control BELINTERSAT-1 satellite and to monitor its payload.
The Ground Application Center – Teleport is designed to provide satellite communications and broadcasting services by means of BELINTERSAT-1 and/or other geostationary satellites.
BELINTERSAT's Own Teleport:
6 fixed full-size antennas (9-13 m)
Capable of operating with satellites in positions from 20° W to 80° E
Installation of additional antennas on behalf of customers
24/7 Control of BELINTERSAT-1 satellite systems operation and parameters of satellite communication services rendered. Location: 40 km from Minsk 53°38'22.3″N 27°12'36.7″E